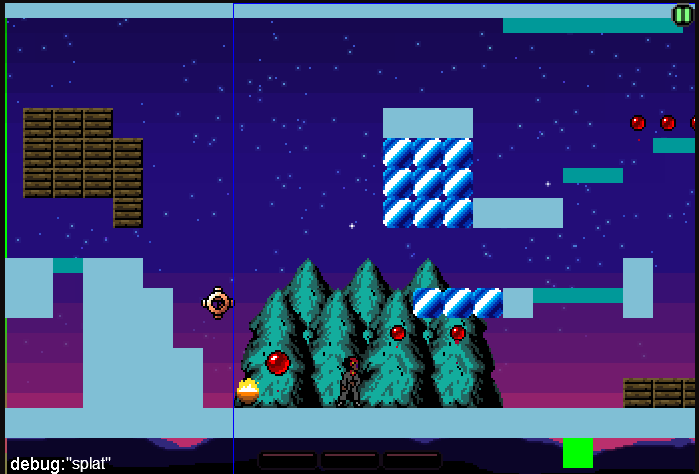 https://www.newgrounds.com/dump/item/a2276abef590645ba83eb85ba53ffd09
Dated January 14, 2014.  This is Sanguine 2 as it was before it was halted for 2 years, and what my video games tend to look like early into development.
- The blue orbs on the loading screen are taken from a Gardener game I never completed... I don't know why that stuff was there, probably little reminders to do something related to them later.
- Many levels do not have ends and you must reload the page and reset the game to get back to the overworld.
- Attack and jump are different buttons.
- You must press up and attack to throw the chain, and it can only be thrown upwards.  For some reason, the hook is gold?  In a previous iteration, the chain spun around Eleanor, similar to Yoshi's aiming mechanic in Mario World 2 Yoshi's Island when Yoshi aims an egg, but I found that version to be even more difficult to control and scrapped it.  Plus, hooking into terrain based on a rotating hook made you feel like spiderman... fun, but undermined a big portion of the game.
- You must press up to abduct humans in this version.
- If you abduct a human and press a direction and attack, you throw them in the given direction instead of draining them.  Humans can be thrown into other humans.  Scrapped because it's kind of easy to accidentally throw them, and I thought weaponizing human bodies might trivialize parts ot the game.
- The Scythe weapon drains blood...?
- Humans have a particle effect system showing how they detect the player.  The scan comes out from the player instead of the humans, since I found that more often than not, the player was closer to a wall then humans were and it would result in fewer hitTests (and in theory, may improve performance).
- Souls give Eleanor a shoddy form of invincibility.
- Humans have an absurdly fast fire rate.
- Clicking on the upper right hand corner gives you the pause menu, complete with circle buttons that do stuff. From the right, the first tan set change the background, the next set changes the footstep sounds, the next turn blood on and off, the dark green button toggles the particle effects quality and the last button will turn you into a yellow block, letting you quickly move around a level while invincibile when you unpause.